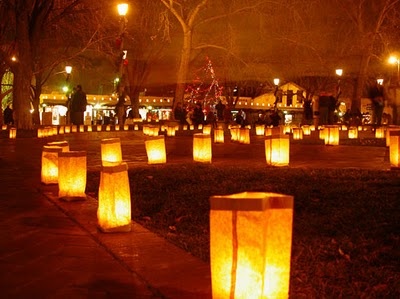 "Every path, every curb, every rooftop was lined with thousands of softly glowing brown paper bags."

Christmas Eve traditions differ from region to region, from family to family. All Lainie Davis knew, before she got in her old car and headed east was that Christmas traditions were for other people, not her. This excerpt from Welcome to Last Chance describes her first Christmas Eve in Last Chance.
20
Ray came by just at dusk Christmas Eve to pick up Lainie and Elizabeth, and on the way to San Ramon, the orange and crimson sunset faded to purple and the first stars tentatively appeared in the growing dusk.
Elizabeth peered up through the windshield into the darkening sky. "This is the time I used to watch for when I was a little girl—the moment when it was really, truly, Christmas Eve."
"Seem weird not being at the ranch Christmas Eve?" Ray pulled off the highway at the San Ramon exit and joined the line of traffic snaking toward the town plaza.
"A little, maybe. But I've always wanted to see the San Ramon Plaza all lit up too, and with Lainie singing with the choir this year, well, here's my chance." She smiled at Lainie sitting between her and Ray.
"And here we are." Ray turned a corner that brought them onto the plaza.
Lainie stared at the soft glow that surrounded them. Every path, every curb, every rooftop was lined with thousands of softly glowing brown paper bags. Continue Reading →